An Awesome Xperience!
The XTREME Ricciardo karts here at XTREME KARTING are based on the N35-GT rental kart manufactured by Birel Art .
The Ricciardo Karts are speed limited to 100 KLM per hour and powered by 2 X GX270 10HP HONDA engines.  Fitted with HIGH PERFORMANCE REAR DISC BRAKES and competition clutches these karts are capable of lapping the 1.6klm Xtreme Circuit in sub 1 minute 14 second lap times.  They deliver an exciting hire kart experience available no where else but here at Xtreme Karting Pimpama.
NOTE: Lap times will vary depending on weight of driver, track temperature and tyres.
Due to the high performance characteristics of the Ricciardo karts special conditions apply for eligibility to drive these karts. These conditions are as follows:
You must be taller than 140cm
You must be over the age of 16.
You must have a clean driving record here at Xtreme Karting
You must have achieved a lap time of the Xtreme circuit of 1 minute 25 seconds or less on the Xtreme Circuit.
You must have completed a minimum of 2 Xtreme Super Enduros, or 16 x 10 minute sessions of the Xtreme circuit
You must be a member of the Xtreme Race Team (Annual Licence Fee $50)
Please note you must book sessions for these karts a minimum of 24 hours in advance.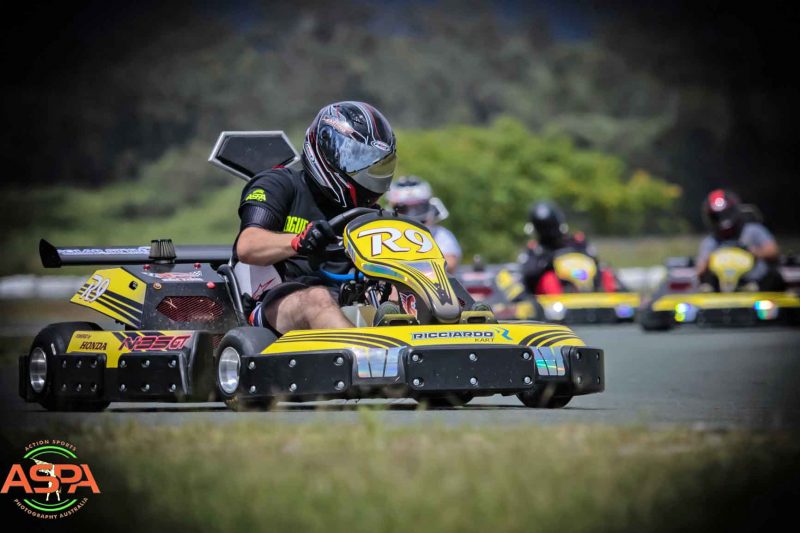 The Ricciardo Karts will be used exclusively in the forthcoming 10 Round Assassin Race Series.  The cost of each Round will be $120 per driver.  Each Round will comprise a 5 lap qualification race (5 laps Xtreme circuit to determine a drivers average time, then a 15 lap race around the Xtreme circuit where the winner will be determined as being the driver who has completed the 15 laps closest to his or her nominated average time. There will be trophies for each round as well as trophies for the series winners. The Assassin Series will culminate in November with the "Nurburg Flying 50" which will be a 50 lap race around the Nurburg Circuit where the winner will be determined as being the driver who has completed the 50 laps closest to his or her pre-race nominated average time. (There will be no qualifying laps prior to this event).